Who is Victoria Ruffo?
Maria Victoria Eugenia Guadalupe Martinez del Rio Moreno-Ruffo more commonly known as Victoria Ruffo is a Mexican actress. She is popular for her roles in telenovelas.
She has been present in the acting industry since 1980 and still working. Yet, she has won millions of hearts across the world through her notable performances.
Early Life of Victoria Ruffo
Victoria Ruffo was born on 31 May 1952. She was born in Mexico City, Mexico, and began her career at the same place. As of now, Victoria is 59 years old.
Victoria has not mentioned the name of her family member except for her sisters Gabriela Ruffo, actress and radio, and Marcela Ruffo who is a producer. The details of her personal life are still under search.
Neither her educational qualification nor educational background is known.
Her fans want to invade her life but they didn't find anything important that can tell them about their favorite star.
Victoria Ruffo Career
Victoria Ruffo showed presence in the acting industry in 1979 and began her profession by acting in supporting roles in telenovela Conflictos de un Medico in 1980.
This show was directed by Emesto Alonso and then she was seen in Al Rojo Vivo. In 1983 she was plotted as protagonist Natalia in La Fiera along with Guillermo Capetillo.
Valentin Pimstein provided her with this opportunity to play the protagonist.
Then she was in telenovela of Carlos Tellez named Juana Iris in 1985 alongside her sister, Gabriela Ruffo and Valentin Trujillo.
Comeback
After a break of two years, she was featured in 1987 Ernesto Alonso's telenovela Victoria. A regular pattern of break of two years has been constantly seen in Victoria's career.
After 1987, she has next seen in the 1989 telenovela, Simplemente Maria.
Valentin Pimstein offered her main role in this show.
During the 1990s, Victoria was active 1993. She was playing the role of protagonist Cristina Aranda in the telenovela Capricho by Carlos Sotomayor.
Again 1995, after two years she was seen acting in the character of Consuelo Villagran in the telenovela Pobre Nina Rica by Enrique Segoviano.
She was seen by her audience in the telenovela Vivo por Elena as Elena Carvajal in 1998.
Victoria Ruffo was starred in Abrazame muy fuerte of Salvador Mejia along with Aracely Arambula. This show came out in 2000.
After 2000, she was seen active in the year 2005, and the same year she made her comeback with telenovela La madrastra.
This show also included Cesar Evora in the cast and it was critically acclaimed too.
After La madrastra, while appearing in telenovela she was seen performing duties as First Lady of Pachuca, and her husband was acting as mayor.
Post Popularity
In 2007, Victoria was seen alongside Mauricio Ochmann and Arturo Peniche in Telemundo production Victoria.
Next, she was seen in the lead role in Carlos Moreno's En Nombre del Amor together with Altair Jarabo, Allisson Lozz, and Leticia Calderon in 2008.
She played the character of Macarena's sister Carlota, and the role of Leticia Calderon. In 2010 Victoria was included in the list of Latin America's 50 Most Beautiful People.
In mid-2020 it was confirmed that she will play the lead character of Victoria in Salvador Mejia Alejandre's telenovela Triunfo del amor. Maite Perroni, Diego Oliveira and William Levy.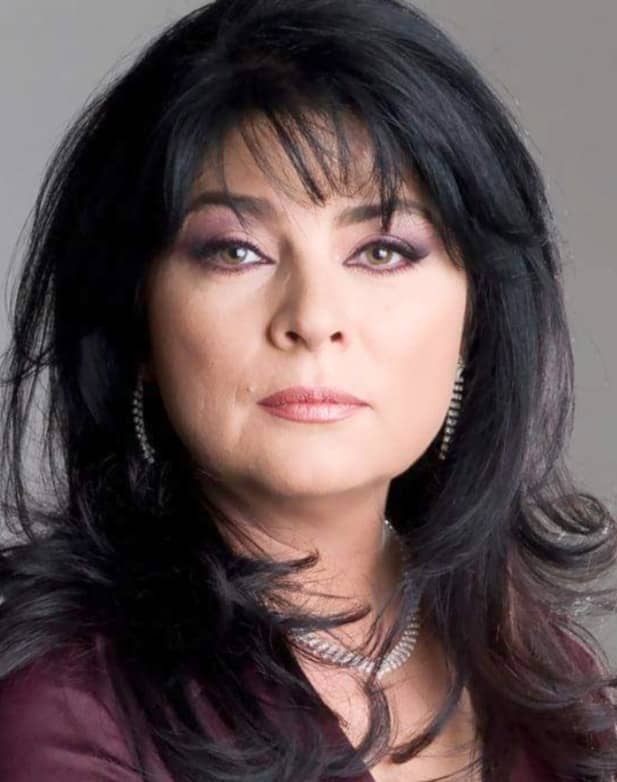 After Triunfo del Amor, she preferred to focus on family and doing theatre plays in Dulce Pajaro de Juventud. She also supported the senatorial campaign of her husband Omar.
He won a seat in senate too. Jose Alberto Castro in 2012 confirm that she will star in telenovela Corona de Lagrimas along with Alejandro Nones, Jose Maria Torre, Mane de la Parra, and Adriana Louvier.
For performing in Corona de Lagrimas she won the 31st TVy Novelas Awards for Best Lead Actress.
After 2012, she played the lead role in the 2014 telenovela La malquerida together with Arturo Peniche, Africa Zavala, Ariadne Diaz, and Christian Meier.
Then in 2016 Victoria was asked to lead the cast of telenovela Las Amazonas on the call of Salvador Mejia.
After 2016, Victoria made her comeback on a telenovela in 2019 with the role of the protagonist of Cita a Ciegas where she was seen committing to the comedy genre.
The role of Maura played her was received well and it was her first show where she did not cry.
Also Read: Vadhir Derbez Mexican Actor Biography
Victoria Ruffo Personal Life
Victoria Ruffo has kept her private life secretive from the media. Victoria with Eugenio Derbez has one son named Jose Eduardo Derbrez who was born in 1992.
She married Mexican politician Omar Fayad on March 9, 2001.
Omar Fayad is the Governor of Hidalgo. On August 11, 2004, she welcomed her twins, one son named Anuar and daughter Victoria.
Also Read: Who is Mexican actress Irena Azuela?
Victoria Ruffo Net Worth
Victoria Ruffo is one of the richest actresses in Mexico. Her hard work has positioned her at such a famous spot that her audience wants to know about her net worth.
The estimated net worth of Victoria is $13 million. She has been capable of accumulating such a huge net worth. Moreover, she has maintained a low profile on social media platforms.
We wish her further success in her professional life.
Next Read: Who is Mexican Actress Esmeralda Pimentel?