You will have surely heard about Bumble, one of the largest dating apps in the world with over 10 Million+ users. But do you know the person behind it?
Well! She is Whitney Wolfe Herd. She is an American entrepreneur and founder & CEO of Bumble.
Also, Wolfe Herd was earlier the vice president of the popular dating platform Tinder. She was named to the Forbes 30 Under 30 list in 2017 and 2018, and she was included on the Time 100 List in 2018.
Aside from these, Wolfe Herd has the title to become the world's first youngest self-made billionaire.
Let's read the journey of this great lady and find out some top-notch lessons from her biography.
"is about perspective and how you look at something… ultimately, you have to zoom out" – Wolfe Herd
Whitney Wolfe Herd – Origin
Whitney Wolfe Herd was born in July 1989 in Salt Lake City, Utah, United State, and raised there to her Jewish father Michael Wolfe, who was a wealthy property developer, and Catholic mother Kelly Wolfe.
She enrolled in the Judge Memorial Catholic High School for her primary education. During her fourth grade, her family moved to Paris, France.
There she attended Southern Methodist University, where she majored in international studies. At the University, she was also a member of the Kappa Kappa Gamma sorority.
During her college days, she started a business selling bamboo tote bags to benefit areas affected by the BP oil spill.
The non-profit organization called the "Help Us Project" was founded by Wolfe Herd and celebrity stylist Patrick Aufdenkamp.
After celebrities like Rachel Zoe and Nicole Richie were photographed with them, the bags received considerable attention.
She then launched a second business with Aufdenkamp, under the name "Tender Heart", which produced apparel aimed at raising awareness about human trafficking and fair trade.
After getting graduated, Wolfe Herd spent her summer months working in an orphanage in Southeast Asia.
Whitney Wolfe Herd – Early Career
In 2012, at the age of 22, Wolfe Herd joined Cardify, a Hatch Labs IAC incubator project led by Sean Rad.
The project was eventually discontinued, but Wolfe Herd became part of the Tinder development team with Rad and Chris Gulczynski.
Shortly, Tinder appointed Wolfe Herd as vice president of marketing.
She was credited with coming up with the name of the app, which she took inspiration from in terms of the flame logo and the concept of tinder, which is flammable material that can start a fire.
Wolfe Herd resigned from Tinder in April 2014 due to growing tensions with other company executives.
On June 30 she filed a lawsuit against Tinder alleging that she had experienced sexual harassment and discrimination.
Reportedly, she got more than US$1 million as well as stock as part of a settlement in September 2014.
Wolfe Herd created Merci, a female-only social networking service centered around thank you notes, as a response to internet hatred.
She still isn't interested in the dating business, but she is now working with Badoo founder Andrey Andreev to build a team and develop a new female-friendly dating app.
She intended to call the software Moxie, but it had been taken.
Launch of Bumble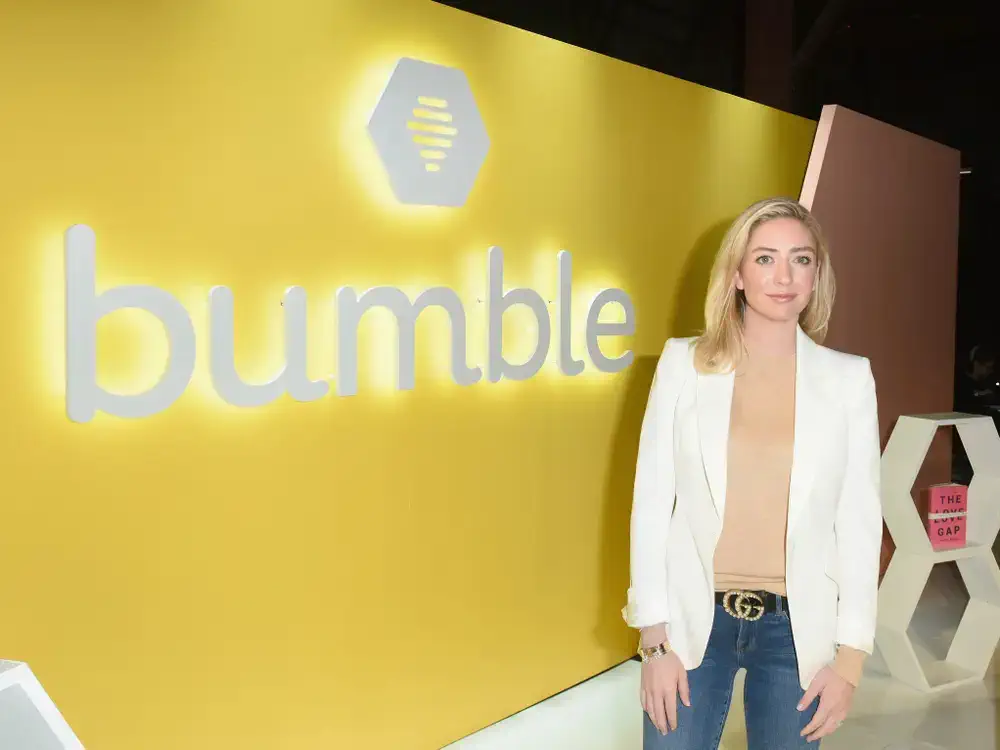 In December 2014, Wolfe Herd moved to Austin, Texas, and launched Bumble, a dating service for women. The app had over 15 million discussions and 80 million matches by the next 12 months.
After Bumble hit the market, Andrey Andreev, the founder of Badoo, reached out to her after Wolfe Herd departed Tinder, and she partnered with him.
The business is still controlled by Badoo, which acquired a majority stake in it.
Bumble, which began as a dating app in 2015, has over 22 million registered users as of November 2017.
In January 2018, CNBC reported that Badoo was seeking a potential sale that could value the business at around $1.5 billion.
In 2014, Business Insider listed Wolfe Herd as one of the 30 Most Important Women Under 30 in Tech. In 2016, she was named to Elle's list of Women in Tech.
She was included on Forbes' 30 under 30 lists in 2017 and 2018.
Wolfe Herd spoke before the Texas House Criminal Jurisprudence Committee in March 2019 about the high number of unsolicited explicit photographs sent to female users on dating sites.
Bumble was acquired by the Blackstone Group's MagicLab subsidiary in November 2019, with co-founder Andreev selling his entire stake in both companies.
Wolfe Herd became CEO of MagicLab, the newest acquisition from Google that was valued at $3 billion and had an estimated 75 million active users, taking home a 19% ownership stake.
In 2020, Bumble acquired MagicLab, a company that owned both Badoo and Bumble. As of 2020, worldwide, Bumble has over 100 million members.
After raising $2.2 billion in an initial public offering on the Nasdaq exchange in February 2021, Bumble's valuation topped $13 billion in February 2021.
In April 2021, it hit the $16 billion mark. After Bumble became public, Wolfe Herd became the world's youngest self-made female billionaire.
Whitney Wolfe Herd Net Worth
Whitney Wolfe Herd estimated net worth is $750 million as of March 2022 when the shares of her company were running around $29.
Thus, Whitney Wolfe is no longer a billionaire after her company's shares have tumbled more than 50% since its listing on Nasdaq.
Otherwise, On 11 February 2021, Whitney Wolfe's estimated net worth was $1.5 billion. With the rise of the covid-19 pandemic, she lost more than a half-billion amount.
Yet now, in March 2022, the company's share is in a downtrend and might be hard to come back.
Well! Everything depends on the further planning of the promoters and major stakeholders.
Whitney Wolfe has made her huge wealth from Bumble though she has worked on a lot of other projects.
Besides this, she has various secondary earning sources that consistently help her make more money.
Whitney Wolfe Herd Personal Life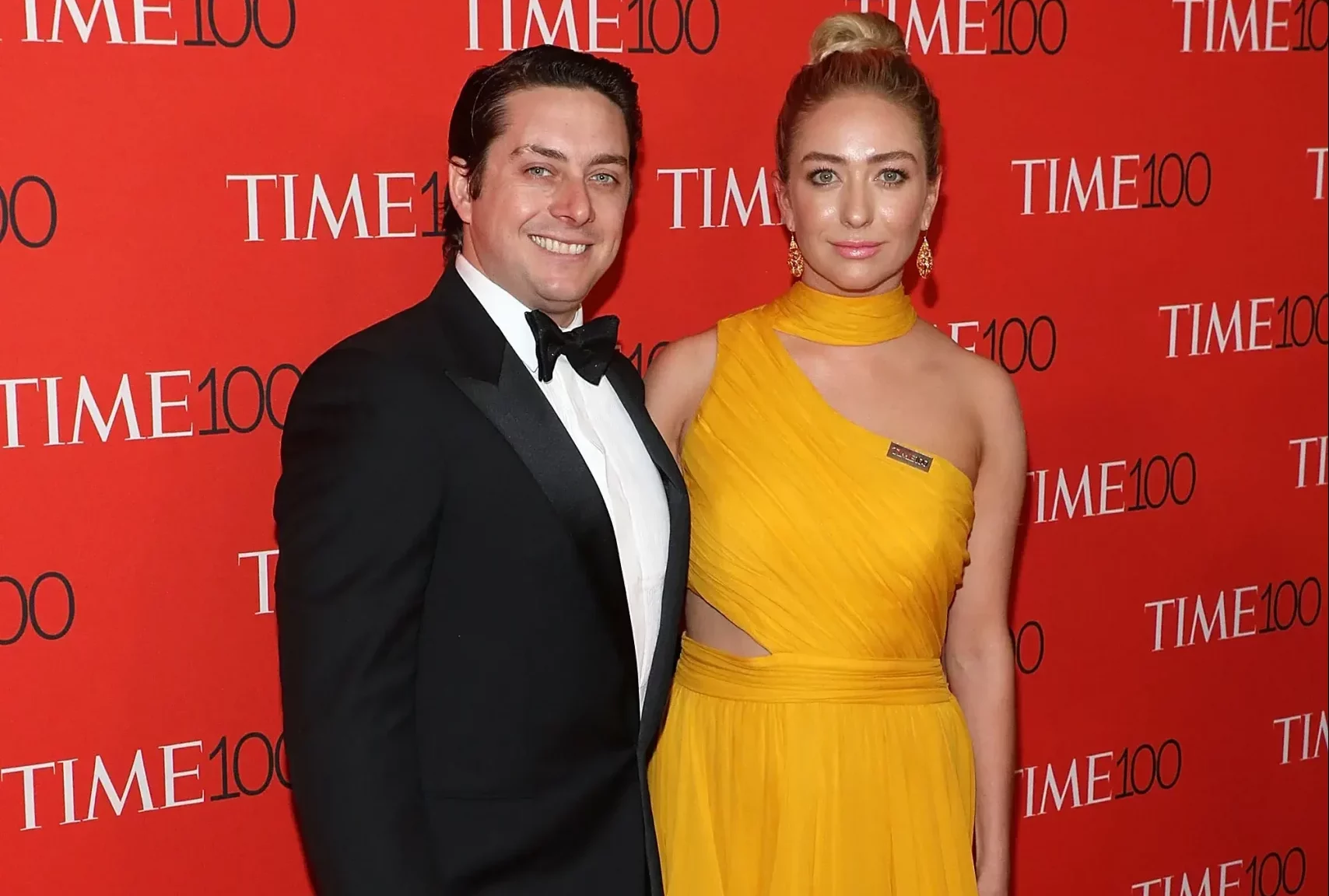 Whitney Wolfe has been married to her amazing husband Michael Herd. The couple first met on an Aspen skiing trip in 2013 though Wolfe had first seen him on a dating app.
She told The Telegraph – "He has the kind of face you remember".
They got married in 2017 in an elegant three-day ceremony on Italy's Amalfi Coast. Further, they stayed at Four Season resorts in both Bora Bora in Maui for their honeymoon.
Her husband, Michael is now the president of the oil and gas field operator founded by his late grandfather, Herd Producing Company.
Whitney and Michael have been blessed with a child in December 2019, who has been named Bobby. Overall, the family lives an enjoying life.
Next Read: Meet the Founder of Canva – Melanie Perkins
The Bottom Line
Whitney Wolfe Herd has proved the strength of women's ability. In fact, she remains at the top position becoming the first self-made women billionaire in the world. She is still not done.
Whitney is trying hard to bounce back asap.
The sad thing is that her company got listed on Nasdaq during the Covid-19 Pandemic and that's why it was hard to sustain longer on the top.
And yet this is 2022, the covid-19 isn't in control completely. Thus, the struggling period will be still in the run.
"The power lunch is no longer just for men. We all deserve a seat at the table" – Wolfe Herd
Let's see further how the company performs in the upcoming quarters. Till then, enjoy taking inspiration from her and from her successful career.