Yolandi Visser (born on 1, 1984) is a well-known South African singer, songwriter, and actress. Her dedication has resulted in a massive fan base from all over the world.
Let's know how she started everything in her life and then achieved it with hard work and great effort.
Profile Summary
Name: Yolandi Visser
Birth Date: December 1, 1984,
Birth Place: Port Alfred, South Africa's east coast
Age: 39 years
Height: 5 feet 8 inches
Net Worth: $10 Million.
Profession: Singer, Songwriter, Actor.
School: boarding school in Pretoria
Brother: Leon
Marital Status: Divorced
Children: Sixteen Jones, Tokkie, Meisie, and Jemile
Nationality: South African
Who is Yolandi Visser?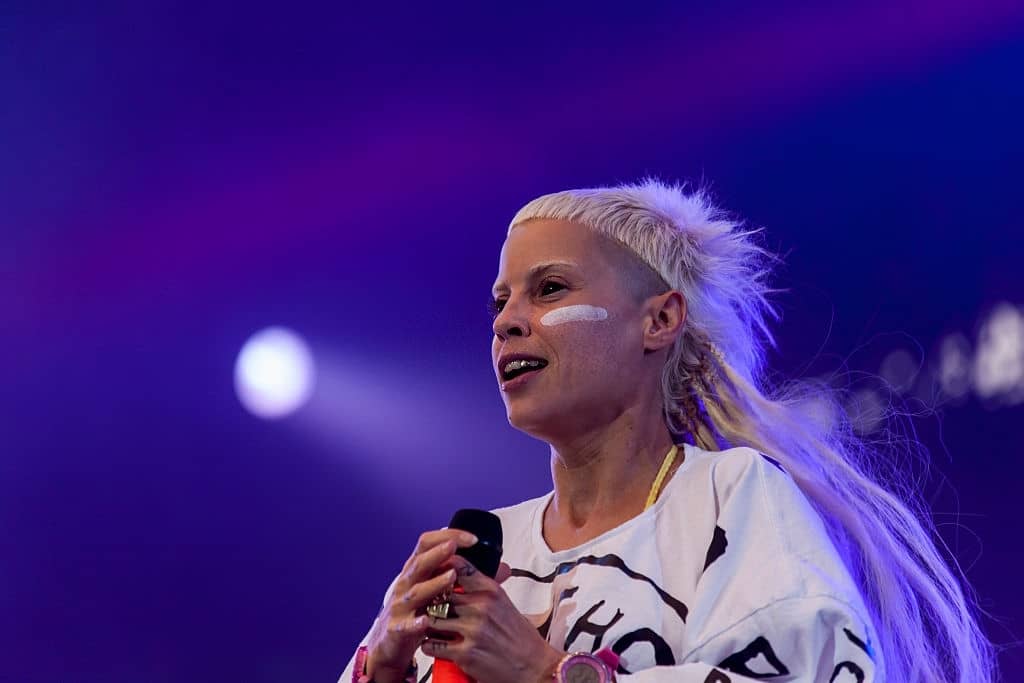 Yolandi Visser is a South African singer, songwriter, and actress best known as the frontwoman of the Zef-Rave-Rapper band 'Die Antwoord.'
She formed the band in 2008 with her then-partner Ninja and producer DJ Hi-Tek.
She has so far released four studio albums, two EPs, and one mixtape as a member of the band.
Interscope Records released their debut album, $O$, but they later left the label to avoid being pressured to become "more generic."
She was a member of the music and art groups 'The Constructs Corporation' and 'MaxNormal.tv' before forming the band.
She appeared on the cover of the February 2012 issue of South African Rolling Stone magazine, alongside Ninja and their daughter.
They also performed their latest song live on the 'Late Show with David Letterman.' She and Ninja appeared as meta-fictional versions of themselves in the 2015 film 'Chappie.'
She has also contributed to a number of short films.
Early Life of Yolandi Visser
Yolandi Visser was born on December 1, 1984, in Port Alfred, a small town on South Africa's east coast. She was adopted as a baby by a "cute little Afrikaans family" and never met her birth parents.
Her father was a priest, and her mother worked as a housewife.
Leon, her adoptive older brother, died in 2015. As a child growing up in a conservative Afrikaans society, she became very rebellious, frequently getting into fistfights.
She was sent to a boarding school in Pretoria when she was 16 years old.
Yolandi Visser Age
Yolandi Visser is 39 years old as of 2023, having been born on 1 December 1984.
In her late 30s, she continued to thrive in her career as a renowned South African singer, songwriter, and actress.
Yolandi Visser Career
Yolandi Visser was always interested in music as a child, but she didn't understand rap. She had also never considered a career in music.
She became friends with Markus, a musician, after moving to Pretoria to attend school.
Markus was an expert at creating electronic music using fruity loops. He frequently recorded her in order to incorporate it into his tracks.
She became interested in music after hearing Markus's tracks.
But she still had a lot of questions about how to make a career in music.
Yolandi also met Watkin Tudor Jones (Ninja) in Cape Town. When she showed Ninja the dome songs she had made with Markus, he invited her to join his rap group.
As a result, they formed their own band called 'Die Antwoord.' Fortunately, there were numerous chart-topping singles and albums.
Later on, they were joined by DJ Hi-Tek (Justin de Nobrega), a producer. Her video 'Enter the Ninja' was a smash hit, catapulting her career to new heights.
Damien Hirst, the great English artist, has canonized the lead female voice of 'Die Antwoord' in bronze and gold leaf. Yolandi Visser is the inspiration for Damien Hirst's artwork.
In addition, he regards her as a Goddess from an ancient civilization. There is no additional information available regarding her awards and nominations.
Also Read: Who is singer Sinach?
Yolandi Visser Husband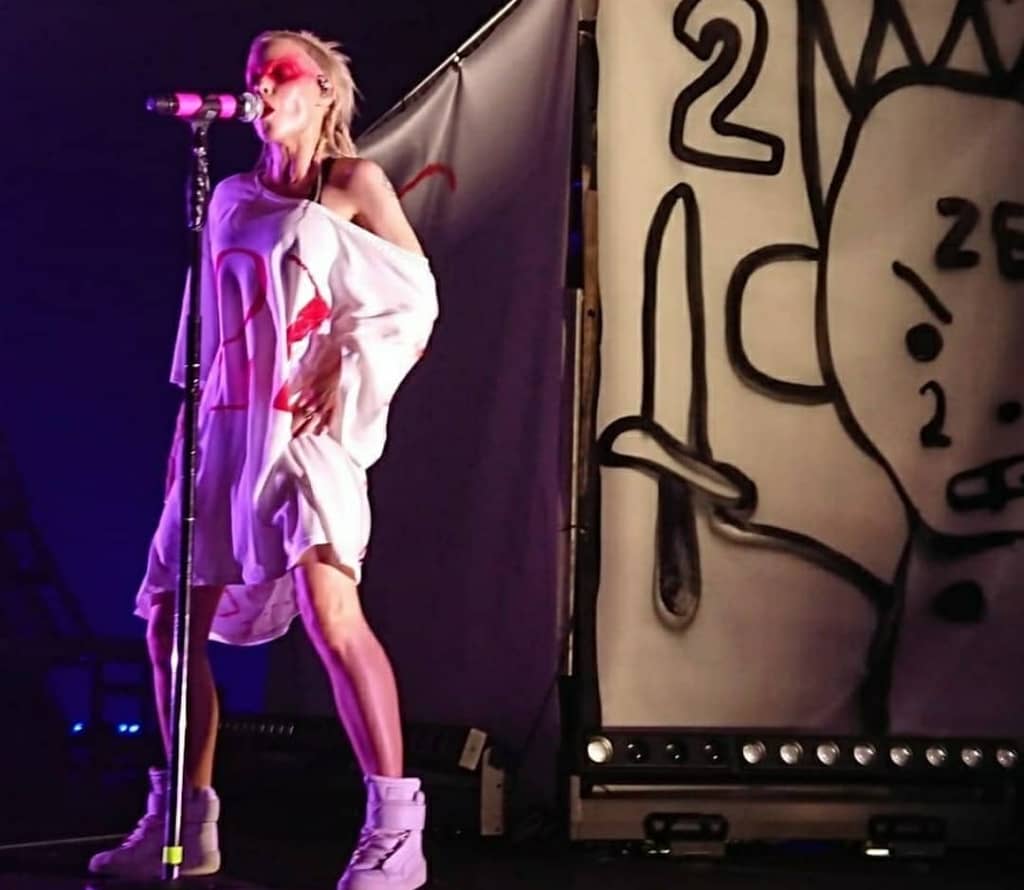 Yolandi Visser currently unmarried but is in a long-term relationship with her boyfriend Watkin Tudor Jones Jr. They've been dating for quite some time. He is a Libra and she is a Sagittarius.
Aries, Leo, Libra, and Aquarius are thought to be the most compatible signs with Sagittarius, while Virgo and Pisces are thought to be the least compatible signs with Sagittarius.
Watkin Tudor Jones Jr. is 47 years old, and Yolandi is 37.
Before this one, Yolandi Visser was in a relationship with Die Antwoord bandmate (Ninja) Jones.
She was 16 when moved to Cape Town after finishing school. There she met Ninja, who assisted her in determining her career goals.
She later fell in love with Ninja and had a daughter named Sixteen Jones who was born in 2005.
They never married and later divorced, but they are still close. Her daughter, who made her debut in the music video for "I Fink U Freaky" at the age of seven, is also a singer and songwriter who is a member of a band.
She later took in a street child named Tokkie.
She also has three adopted children: Tokkie, a boy, and Meisie, a girl, were adopted in 2010, and Jemile, a son, was adopted in 2015.
Also Read: Who is South African Businesswoman Evodia Mogase?
Yolandi Visser Net Worth
Yolandi is estimated to have a net worth of $10 million as of 2023. She has a long history in the music industry.
She has undoubtedly amassed a large fortune, with the majority of her wealth derived from her professional music career.
Despite her obvious wealth, Yolandi prefers to live a simple life. Her salary is still unknown, but it will be updated as soon as it is available.
Yolandi Visser Height and Weight
Yolandi Visser stands at a height of 5 feet and 2 inches.
She also weighs 50 kg or 110 lbs. Her Eye Color is Blue and her Hair Color is Blonde. She looks like a doll.
Physical Appearance
Height
Feet & Inches: 5'2"
Centimeter: 157 cm
Meter: 1.57 m
Weight
Kilograms: 50 kg
Pounds: 110 lbs
I hope you enjoyed reading this article and had a great time going through it. Let us know your thoughts and opinion regarding this article below in the comment section.